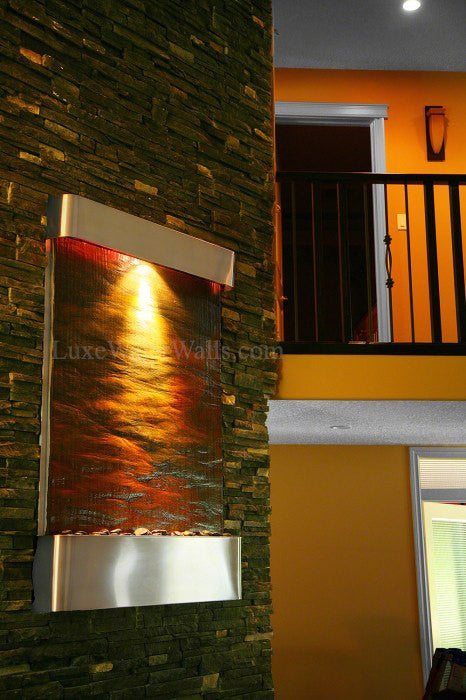 Boss Fountain #36
$ 4,199.00
Dimensions: 36"W x 53"H x 6.5"D
Prepare yourself for hours of enjoyment with this 36-inch wide water feature. You'll love the soothing sounds and enhanced air quality that this elegant product provides. The wall fountain is completely self-contained and features our safe bracketing system to help simplify installation. The distinct design is particularly evident in capped sides which keep all hardware, cords, and tubing hidden from view.
One of the best features of a Luxe indoor waterfall is your ability to create a custom look. In addition to choosing your own surface or trim material, you can add your company's logo, show your support for a favorite sports team, or laser etch photos of loved ones or favorite places. You can even change the dimensions of the fountain itself. The sky's the limit, and our team of specialists is ready to help you create the wall fountain of your dreams.
Every Luxe Water Wall indoor water wall features a water distribution system that ensures you get an uninterrupted water flow across the one-piece slate surface. You'll want to take a look at a variety of accessories that enhance its superior performance. To help reduce the amount of common weekly maintenance, we offer an automatic refilling system as well as UV sterilization.
Features:
Fully Self Contained
Full Plumbing Kit Available
Stainless Steel or Copper Trim Available
1 Slate Slab Design
All Natural 3/4" - 1" Slate
1x50 Watt Halogen Light
On Board Switches
No Dripping or Splashing
No Hanging Cords
No Visible Hardware
No View Behind Fountain
Exclusive Safe Bracketing System
Exclusive Water Delivery System
Custom Widths and Heights
Custom Surface and Trim
Handmade in North America
Specifications:
Dimensions: 36"W x 53"H x 6.5"D
120 Volt 15 Amp Power Required
Weight: 250 Lbs
Ships: LTL Carrier
What's Included:
Recirculating Electric Pump
Wall Bracket System
Polished River Rocks
Lighting
Installation Materials
Installation:

Installation Materials available please email info@luxewaterwalls.com