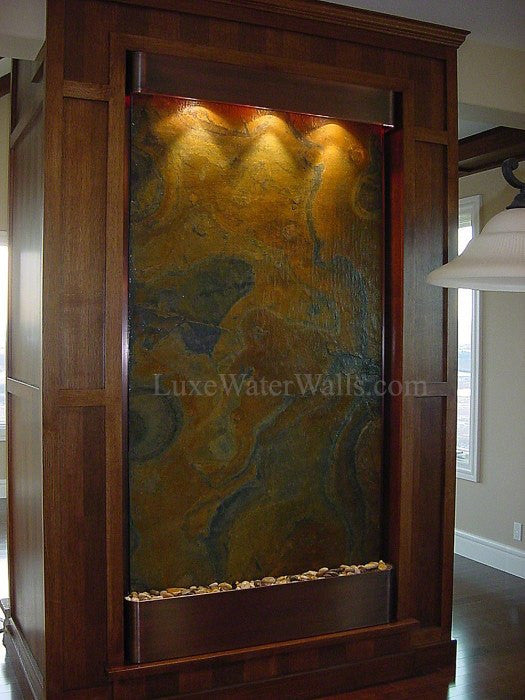 Boss Fountain #50-B
$ 8,699.00
Dimensions: 50"W x 95.6"H x 7"D
Imagine the impression you'll make when your guests view this indoor waterfall. At almost 96 inches tall, it's an impressive solution for rooms with open floor plans and large ceilings. To help complement the design, the extra-tall fountain has capped sides that make it completely self-contained. While you and your guests are marveling at its peace and tranquility, you won't be distracted by unsightly cords and hardware.
This wall fountain includes two exclusive features: a safe bracketing system and a premium water distribution system. Both of these features are a reflection of the craftsmanship that comes from our skilled artisans who manufacture this, and every fountain, with a personal touch that sets a quality standard for the industry and ensures your enjoyment for years to come.
Once you've chosen your trim and surface colors, and added personal touches like a company logo or laser-etched photo, you should be sure to consider additional accessories that add to the fountain's design and performance. Many customers have found our automatic refilling system to be a valuable addition. With this feature, you won't have to remember to replenish the water supply. And for premium water clarity consider adding UV sterilization.
Features:
Fully Self Contained
Full Plumbing Kit Available
Stainless Steel or Copper Trim Available
1 Slate Slab Design
All Natural 3/4" - 1" Slate
2x50 Watt Halogen Light
On Board Switches
No Dripping or Splashing
No Hanging Cords
No Visible Hardware
No View Behind Fountain
Exclusive Safe Bracketing System
Exclusive Water Delivery System
Custom Widths and Heights
Custom Surface and Trim
Handmade in North America
Specifications:
Dimensions: 36"W x 95.6"H x 7"D
120 Volt 15 Amp Power Required
Weight: 400 Lbs
Ships: LTL Carrier
What's Included:
Recirculating Electric Pump
Wall Bracket System
Polished River Rocks
Lighting
Installation Materials
Installation:
Installation Materials available please email info@luxewaterwalls.com