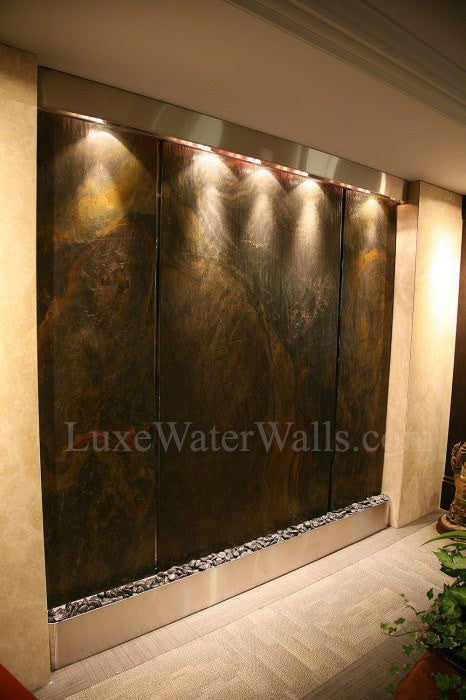 Boss Fountain #108-B
$ 15,699.00
Dimensions: 108"W x 95.6"H x 7"D
There are fountains and then there are walls of water. You can safely put this impressive wall fountain in the latter category. Three slabs of slate span 108 inches to help you cover an entire wall. And with a height of 96 inches, you get a well-proportioned design that makes a dramatic impression. Both the surface and the trim can be customized with your specifications. Our design experts are ready to help make your vision a reality, all we need is your imagination.
The ingenuity of this fountain goes beyond the attractive surface. In fact what might be most obvious is what you don't see, namely unsightly cords, hardware or tubing that can be typically seen behind the fountain. All of our handmade wall fountains feature capped sides for a self-contained design that keeps the focus right where you want it – on the tranquility and consistent performance of this indoor waterfall. And with six, 50-watt halogen lights, what a view you'll receive.
This fountain also helps to take care of some common maintenance concerns with accessories that give you a direct plumb option that allows automatic refilling and UV sterilization that helps keep your water crystal clear.
Features:
Fully Self Contained
Full Plumbing Kit Available
Stainless Steel or Copper Trim Available
3 Slate Slab Design
All Natural 3/4" - 1" Slate
6x50 Watt Halogen Light
On Board Switches
No Dripping or Splashing
No Hanging Cords
No Visible Hardware
No View Behind Fountain
Exclusive Safe Bracketing System
Exclusive Water Delivery System
Custom Widths and Heights
Custom Trim and Surface
Handmade in North America
Specifications:
Dimensions: 108"W x 95.6"H x 7"D
Weight 1500 Lbs
120 Volt 15 Amp Power Required
3 Slate Slab Design
Ships LTL Carrier
What's Included:
Recirculating Electric Pump
Wall Bracket System
Polished River Rocks
Lighting
Installation Materials
Installation:
Installation Materials available please email info@luxewaterwalls.com