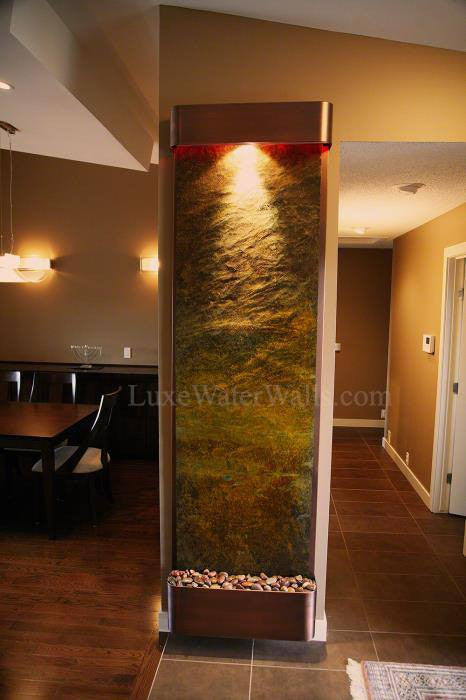 Boss Fountain #28-B
$ 5,299.00
Dimensions: 28"W x 95.6"H x 7"D
This extra-tall indoor waterfall is ideal in rooms where you need a strong vertical element to accommodate high ceilings. This fountain has all our common features with the added benefit of having a height of just under 96 inches to help fill an extra-tall space. With a conversation starter like this, you'll appreciate the self-contained design which includes capped sides. This means there are no cords, hardware, or tubes to distract you or your guests from the serenity of your fountain.
A premium feature of this, and all of our wall fountains, is a water distribution system that allows you to have hassle-free maintenance. We design our fountains to give you a complete, even sheet of water every time you turn on the fountain, without some of the periodic maintenance steps that you might have to take with other fountains. From the first time you turn it on, and for years to come, you'll enjoy the way you get consistently exceptional performance.
Copper or stainless steel trim finishes are standard as are three colors of one-piece slate. You can customize either the trim or the surface to include images such as a logo or design.
Features:
Fully Self Contained
Full Plumbing Kit Available
Stainless Steel or Copper Trim Available
1 Slate Slab Design
All Natural 3/4" - 1" Slate
1x50 Watt Halogen Light
On Board Switches
No Dripping or Splashing
No Hanging Cords
No Visible Hardware
No View Behind Fountain
Exclusive Safe Bracketing System
Exclusive Water Delivery System
Custom Widths and Heights
Custom Surface and Trim
Handmade in North America
Specifications:
Dimensions: 28"W x 95.6"H x 7"D
120 Volt 15 Amp Power Required
Weight: 320 Lbs
Ships: LTL Carrier
What's Included:
Recirculating Electric Pump
Wall Bracket System
Polished River Rocks
Lighting
Installation Materials
Installation:
Installation Materials available please email info@luxewaterwalls.com