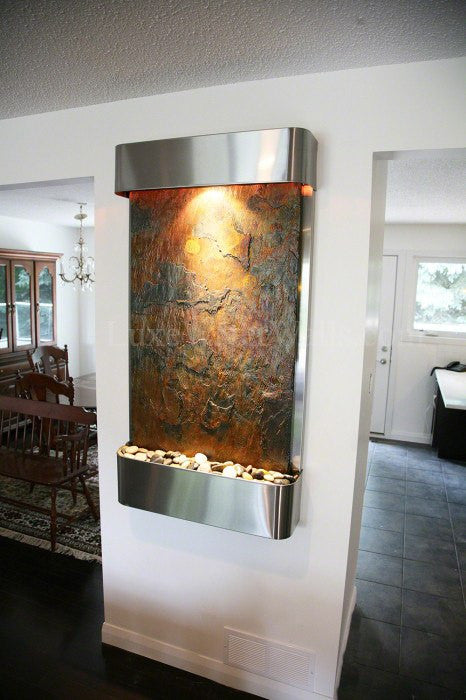 Boss Fountain #28
$ 3,199.00
Dimensions: 28"W x 53"H x 6.5"D
This 28-inch wide wall fountain offers you multiple design options to fit your décor. Your trim options range from the cool, modern look of stainless steel to a warm, neutral copper that is available in dark, medium, or light shading to help you find the right contrast. In addition to three colors of slate surfaces, several customers appreciate their ability to customize their surface, trim, and lighting. To get inspired, check out our Custom Water Feature Gallery or give us a call. We'll help bring your vision to life.
After you've got the size and style exactly the way you want them, you're ready to enjoy one of the finest indoor water wall in the industry. Capped sides keep all distracting, and possibly hazardous, cords and hardware hidden from view. Polished, river rocks are another standard feature that help add to the serenity you expect from this premium product.
Don't forget to take a look at the available accessories including adding a laser-etched logo or other customization to the trim or surface. Two performance features you'll want to consider are our Auto Fill/Auto Drain feature that automatically refills your fountain to help reduce your common weekly maintenance, and UV sterilization that keeps your water crystal clear.
Features:
Fully Self Contained
Full Plumbing Kit Available
Stainless Steel or Copper Trim Available
1 Slate Slab Design
All Natural 3/4" - 1" Slate
1x50 Watt Halogen Light
On Board Switches
No Dripping or Splashing
No Hanging Cords
No Visible Hardware
No View Behind Fountain
Exclusive Safe Bracketing System
Exclusive Water Delivery System
Custom Widths and Heights
Custom Surface and Trim
Handmade in North America
Specifications:
Dimensions: 28"W x 53"H x 6.5"D
120 Volt 15 Amp Power Required
Weight: 190 Lbs
Ships: LTL Carrier
What's Included:
Recirculating Electric Pump
Wall Bracket System
Polished River Rocks
Lighting
Installation Materials
Installation:
Installation Materials available please email info@luxewaterwalls.com