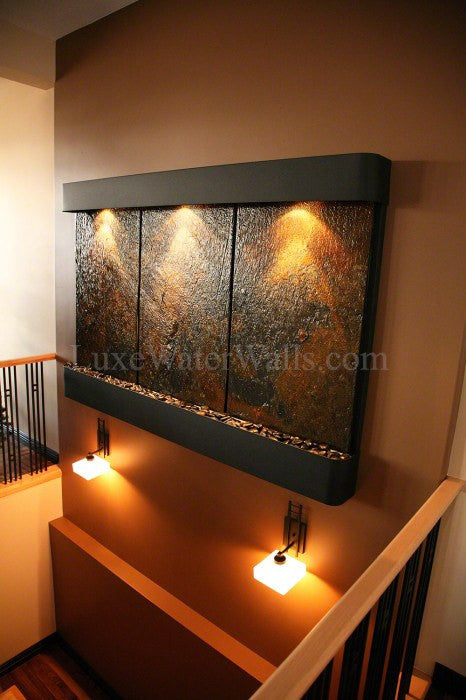 Boss Fountain #80
$ 8,699.00
Dimensions: 80"W x 53"H X 6.5"D
Who needs a flat-screen TV when you can enjoy your view of this 80-inch wall fountain? While that may be exaggerating a little bit, you can't overstate the bold design that creates a dramatic impression. This water fountain gives you many options to customize its look and performance.
To begin with, you can choose a one-piece slate surface, or you can choose to divide the slate surface into three even pieces to open up a variety of design possibilities. Like all of our wall fountains you get a choice of stainless steel or three different copper patina trims (heavy, medium, or light). Three different color options let you match the slate surface to your décor. And that's just the beginning. Because our indoor water features are handmade in North America, you can customize every element including the dimensions of the display.
At Luxe Water Walls, our commitment to enduring craftsmanship is evident in details like the self-contained design with capped sides. There's no visible hardware and you won't be able to see behind the fountain, so the only thing you have to focus on is the tranquility of your wall fountain. For added convenience, you can order a full plumbing kit that includes an automatic refilling system.
Features:
Fully Self Contained
Full Plumbing Kit Available
Stainless Steel or Copper Trim Available
1 or 3 Slate Slab Design
All Natural 3/4" - 1" Slate
3x50 Watt Halogen Light
On Board Switches
No Dripping or Splashing
No Hanging Cords
No Visible Hardware
No View Behind Fountain
Exclusive Safe Bracketing System
Exclusive Water Delivery System
Custom Widths and Heights
Custom Trim and Surface
Handmade in North America
Specifications:
Dimensions: 80"W x 53"H X 6.5"D
Weight 400 Lbs
120 Volt 15 Amp Power Required
1 or 3 Slate Slab Design
Ships LTL Carrier
Installation:
Installation Materials available please email info@luxewaterwalls.com