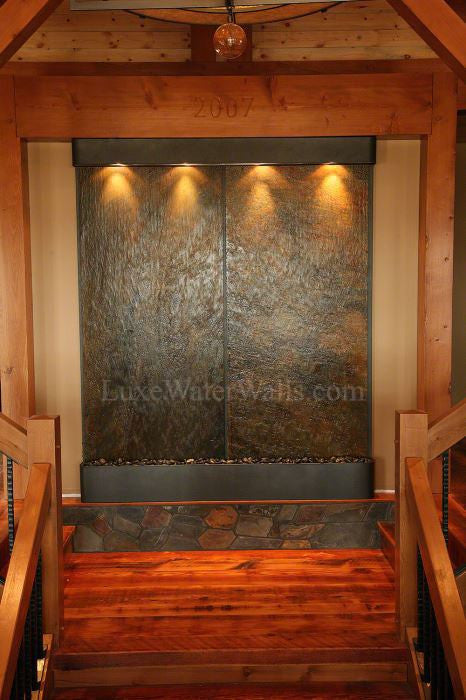 Boss Fountain #80-B
$ 11,999.00
Dimensions: 80"W x 95.6"H X 7"D
Imagine stepping off the elevator or walking up the stairs to see the bold elegance of this wall fountain. Measuring 80-inches wide and nearly 96-inches tall, this indoor waterfall is designed for large spaces and gives you a variety of options to help you create a unique look for your home or business.
All our indoor waterfalls are handmade in North America so you can customize virtually every element from the trim and surface material to the lighting and dimensions. Add your company's logo, use laser etching to put a family photo. There are a variety of options which you can discover. Visit our Custom Fountain Gallery or speak with one of our helpful representatives. We're here to make your vision a reality.
The attention to detail that is a hallmark of our wall fountains is also reflected in details like our exclusive water distribution system. With this system, you'll enjoy full, even sheets of water every time you turn on the fountain. You'll also appreciate the capped sides that make the fountain completely self-contained. Among the many accessories that are available to you, you can choose an auto refilling system and/or UV sterilization that helps to remove a common maintenance concern.
Features:
Fully Self Contained
Full Plumbing Kit Available
Stainless Steel or Copper Trim Available
2 or 3 Slate Slab Design
All Natural 3/4" - 1" Slate
4x50 Watt Halogen Light
On Board Switches
No Dripping or Splashing
No Hanging Cords
No Visible Hardware
No View Behind Fountain
Exclusive Safe Bracketing System
Exclusive Water Delivery System
Custom Widths and Heights
Custom Trim and Surface
Handmade in North America
Specifications:
Dimensions: 80"W x 95.6"H X 7"D
Weight 900 Lbs
120 Volt 15 Amp Power Required
2 or 3 Slate Slab Design
Ships LTL Carrier
What's Included:
Recirculating Electric Pump
Wall Bracket System
Polished River Rocks
Lighting
Installation Materials
Installation:
Installation Materials available please email info@luxewaterwalls.com