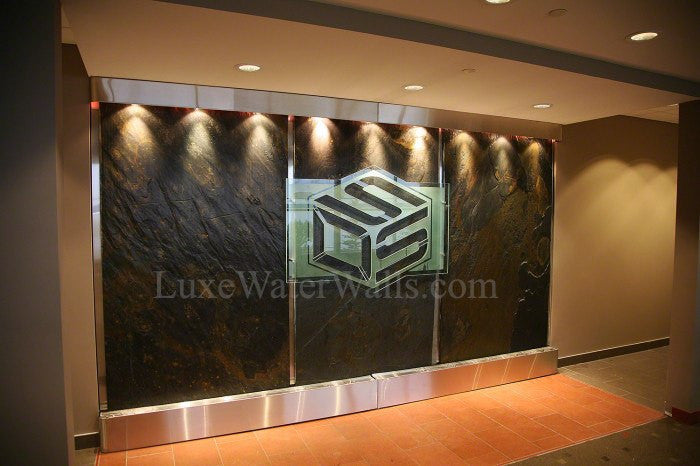 Boss Fountain #144-B
$ 22,999.00
Dimensions: 144"W x 95.6"H X 7"D
From the floor to the ceiling, this indoor waterfall redefines full coverage. You'll be delighted at the superior water distribution system that delivers a full, even sheet of water that will remind you of the premium design of this wall fountain every time you turn it on – and every time you don't have to do tedious maintenance to keep the tranquil, aesthetic look you want.
The fountain comes standard with three slabs of slate and can be fully customized including changing the surface material, trim, and lighting. So while what you see is beautiful, what you can get is even better. Our team of skilled artisans ensures that your fountain will receive the personal touch that ensures all our wall fountains are regarded as among the most premium fountains available.
The self-contained design makes the fountain easy to install and hides all tubes, cords, or hardware. In fact, unlike other fountains, you won't be able to see behind the fountain so you can create a seamless design that keeps the focus where you want it. To further complement the integrated design, two front-mounted toggle switches makes it easy to operate the fountain.
Features:
Fully Self Contained
Full Plumbing Kit Available
Stainless Steel or Copper Trim Available
3 Slate Slab Design
All Natural 3/4" - 1" Slate
9x50 Watt Halogen Light
On Board Switches
No Dripping or Splashing
No Hanging Cords
No Visible Hardware
No View Behind Fountain
Exclusive Safe Bracketing System
Exclusive Water Delivery System
Custom Widths and Heights
Custom Trim and Surface
Handmade in North America
Specifications:
Dimensions: 144"W x 95.6"H X 7"D
Weight 1900 Lbs
120 Volt 15 Amp Power Required
3 Slate Slab Design
Ships LTL Carrier
What's Included:
Recirculating Electric Pump
Wall Bracket System
Polished River Rocks
Lighting
Installation Materials
Installation:
Installation Materials available please email info@luxewaterwalls.com