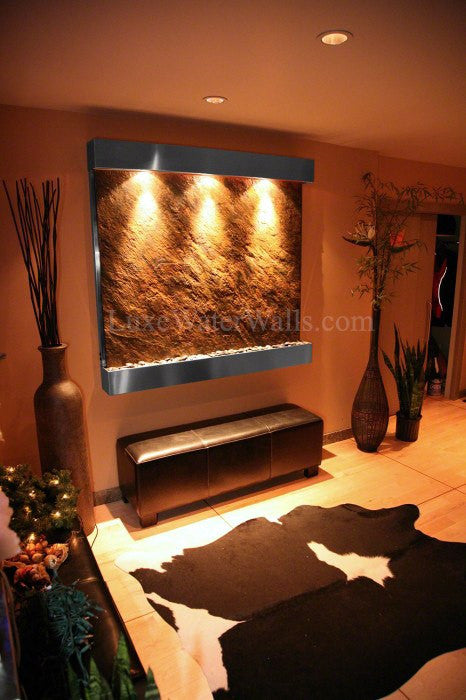 Boss Fountain #54
$ 5,499.00
Dimensions: 54"W x 53"H x 6.5"D
A variety of options make this 54-inch wall fountain as close to a custom design as you want to make it. This fountain comes standard with one piece of slate, but you can choose to use a two-piece design to create a more stylish impression. The ability to use two pieces also opens up additional possibilities, particularly when you consider that you get two halogen lights, one for each half of the display.
A common feature found on all of our indoor waterfalls are the front-mounted toggle switches that let you turn on the water and lights without working around cords or other hardware. Another premium feature is the water distribution system that helps reduce periodic maintenance while getting full, even sheets of water every time you turn it on.
You can also choose between stainless steel and copper trim and three colored slate surface options to create just the right tone for every room. Both the trim and surface can be customized. If you need more design inspiration, you can check out our Custom Water Wall Gallery or speak to our customer service team. They'll have more than enough ideas to help you get the perfect look for your home or office.
Features:
Fully Self Contained
Full Plumbing Kit Available
Stainless Steel or Copper Trim Available
1 or 2 Slate Slab Design
All Natural 3/4" - 1" Slate
2x50 Watt Halogen Light
On Board Switches
No Dripping or Splashing
No Hanging Cords
No Visible Hardware
No View Behind Fountain
Exclusive Safe Bracketing System
Exclusive Water Delivery System
Custom Widths and Heights
Custom Surface and Trim
Handmade in North America
Specifications:
Dimensions: 54"W x 53"H x 6.5"D
120 Volt 15 Amp Power Required
Weight: 370 Lbs
Ships: LTL Carrier
What's Included:
Recirculating Electric Pump
Wall Bracket System
Polished River Rocks
Lighting
Installation Materials
Installation:
Installation Materials available please email info@luxewaterwalls.com